Spain to alter corporate tax rules in bid to avoid EU budget fine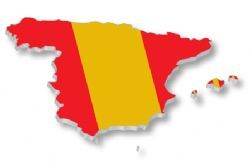 Spain's caretaker government will introduce changes to corporate tax laws shortly in a bid to increase revenues and ward off EU sanctions for failing to do enough to reduce this year's deficit, acting Economy Minister Luis de Guindos said on Tuesday.
Spain has been under scrutiny from the European Commission after overshooting its 2015 public deficit goal.
After two inconclusive elections, Spain has also failed to form a new government that can fully tackle public financing issues for more than eight months.
It won a reprieve from Brussels in July on a potential fine for not taking effective action on cutting its deficit, but De Guindos warned on Tuesday more sanctions loomed if Spain faltered in its efforts to meet 2016 goals.
He said the acting conservative government would sign a decree in the coming weeks aimed at making companies pay more of their tax bill upfront.
This would earn the government some EU6 Bln by year-end, without which Spain will struggle to meet its deficit goal of 4.6% of output even as its economy grows at one of the fastest rates in the euro zone.
"If the Commission considers that the measures are not sufficient, this would once again escalate the excessive deficit procedure and we would be facing fresh sanctions," De Guindos told a parliamentary committee.
The fine would be equivalent to 0.5% of national output, or more than EU5 Bln De Guindos said. Spain also risks having some EU1.3 Bln in structural funds frozen by Europe next year, he added.
Spain was recently granted an extra 2 years by Brussels, until 2018, to bring its deficit below a recommended 3% threshold.
Due to the political impasse - a stand-off between parties is edging Spain towards its potential 3rd ballot in a year - ministers will have to present an extended version of the 2016 budget to Brussels by a mid-October deadline instead of a new one for 2017.
This has already prompted De Guindos to warn about next year's budget goal.
Spain's corporate tax revenues have slumped after a reform by the conservative government which, as of this year, meant companies which pay their taxes in instalments did not have to pay a minimum established amount every time, effectively allowing them to delay full payment to the final tranche.
The law change would involve reintroducing a minimum amount for each instalment.
Recommended Reading :
* Multimillionaires on the rise in post-crisis Spain
* Twitter Spain invoicing 100% of its earnings through Ireland