Rajoy Gives Up Control of Spain Market Regulator in Brexit Push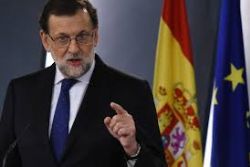 PM Mariano Rajoy's decision to replace a party loyalist with an independent expert at the head of the markets regulator will help Spain lure companies seeking a new base after Britain leaves the European Union, according to Luis Garicano, head of economic policy at the Spanish liberal party, Ciudadanos.
The new regulatory chief, Sebastian Albella, will burnish Madrid's credentials as a stable legal environment, said Garicano, who proposed Albella as a candidate for the post to Economy Minister Luis de Guindos. Albella was appointed by the government last month.
"He'll be a key part of the effort by Spain to be an attractive home for financial institutions and other corporations," Garicano said in an interview. "He'll help provide legal certainty and provide a working environment in English."
After a year of elections and horsetrading, Rajoy is adjusting to life at the head of a minority government where he needs deals with Ciudadanos and his traditional rivals the Socialists in order to pass legislation. On Thursday, de Guindos was in Parliament to win a key vote on the 2017 budget with support from Garicano's group.
Albella, a former state attorney, was previously senior partner of Linklaters LLP in Madrid and helped write Spain's securities law when he worked for the market watchdog in the early 1990s. During his private sector career he advised on more than 20 takeover deals and worked with the Spanish Banking Association, the European Securities Market Expert Group and the European Banking Federation.
In his first month in the job, he's already drafted a plan to court British companies, including provisions for them to submit filings in English.
His track record is a far cry from that of his predecessor, Elvira Rodriguez, a career politician with no direct experience of financial markets. Rodriguez's appointment was seen by critics like University of Pennsylvania economist Jesus Fernandez-Villaverde as typical of the cronyism that left Spanish regulators ill-equipped to rein in the excesses of politicians and financiers before the real estate and banking collapse that rolled through the economy from 2008 to 2013. A spokeswoman for the regulator declined to comment and Rodriguez couldn't be contacted, either through the regulator or through her political party.
Garicano also said he has a "preliminary" agreement with de Guindos to change the system of appointing regulators in Spain. Under their outline plan, a committee of experts will have the chance to veto government nominees to run the securities regulator, the competition and industry regulator, the central bank, and the budget watchdog. Once approved by the independent panel, candidates will then be confirmed be a vote in parliament.
A spokeswoman for the Economy Ministry declined to comment when contacted by Bloomberg.
Recommended Reading :
* 30% of UK firms plan to cut investment in Spain due to Brexit
* Expats get vote for life as British Government scrap limit