May's Brexit plan likely to survive parliamentary assault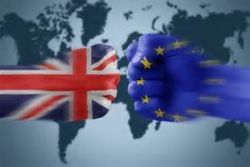 Prime Minister Theresa May's plan to leave the European Union is expected to survive weeks of intense parliamentary scrutiny, which started on Tuesday, despite pro-EU lawmakers' attempts to force the government to rethink its strategy.
May's government is seeking approval for a new law giving her the right to trigger Article 50 - the legal process for leaving the bloc - after the Supreme Court ruled last week that she could not take that decision unilaterally.
"This bill simply seeks to deliver the outcome of the referendum - a decision the people of the UK have already made. They will view any attempt to halt its progress dimly," Brexit minister David Davis told lawmakers at the start of a two day debate on the bill - the first stage in the lawmaking process.
Some lawmakers will try to use the legislative process to press May to reveal closely-guarded details of her negotiating strategy, give parliament and devolved governments more say over the exit talks, or even block Brexit entirely.
But Conservative leader May's majority in parliament means her plan to start Brexit negotiations by the end of March is currently expected to pass through parliament's legislative process relatively unchanged and on time.
"I suspect at the moment there isn't going to be enough for a majority for any amendment," a source close to cross-party discussions on the legislation told Reuters.
Disquiet among Conservative lawmakers, many of whom campaigned for Britain to remain in the EU, has so far been contained after May last week bowed to pressure to set out her Brexit plan in a formal policy document.
"The bottom line is that there is very, very, very little appetite for Conservative MPs (Members of Parliament) to back any amendments," the source said.
"HARD BREXIT" ?
The second largest party, Labour, called for more parliamentary scrutiny of the Brexit process, but has said it will not ultimately try to thwart it. Several Labour MPs disagree with this stance and will oppose the law.
Lawmakers who disagree with the government's plan to leave the EU's single market and negotiate a free trade deal with the bloc - a strategy described by some as a 'hard Brexit' - are gearing up for a fight.
Five separate amendments designed to halt the bill before it can become law have been submitted by lawmakers from different opposition parties. One of these motions, written by the pro-EU Scottish National Party, will be put to a vote on Wednesday.
"Today's debate falls shamefully short in time and in detail and that is why SNP MPs will be voting against the bill proceeding," SNP lawmaker Stephen Gethins said in a statement before the debate.
In addition, 85 pages of proposed amendments to the short two-clause bill have been submitted for debate at later stages in the parliamentary process, seeking to change the law for a wide range of reasons.
Recommended Reading :
* Spanish Hotel boss warns sector is feeling first effects of Brexit
* Belgium denies Brits Brexit safety net