Madrid's Report Predicts Hard Brexit May Cost Spain $1Bln in Exports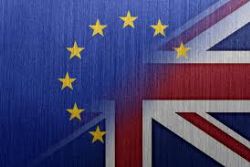 A "hard Brexit" could have serious consequences for Spain, dealing a blow to exports, EU funding and policy, the Spanish el Pais newspaper reported, citing an obtained report by the Permanent Representation of Spain to the European Union on Friday.
The report states that the effect of the UK's departure from the EU will be "greater in the United Kingdom," but that the European bloc and Spain "will suffer negative economic consequences."
According to the report, a hard Brexit could result in a drop in Spanish exports from 464 million euros ($493 million) and up to 1 billion euros, taking a toll on agriculture, the pharmaceutical sector, fishing, the automotive industry, and tourism.
In addition, Spain's GDP could experience a drop of between two billion and four billion euros, while its EU budget contributions would rise by 888 million euros.
The report also notes, that Brexit will have repercussions for Gibraltar, migration policy, higher education, and even Spanish football players based in the UK.
Regions, including Murcia and Melilla, also stand to lose EU funding as a result.
As such, the report calls on the European Union to take into account Spanish needs and demands during the negotiation process regarding issues such as social security, free movement of people and tourism.
The UK government plans to start the Brexit process before the end of March, when article 50 of the Lisbon Treaty will be triggered. UK Prime Minister Theresa May has stated that her government will follow a so-called "hard Brexit" approach, not seeking access to the EU single market and prioritizing migration controls.
Recommended Reading :
* "That Bus has gone" : EU sees no Brexit U-turn now
* Spanish PM calls on UK to ensure Brexit is 'Quick and Constructive'