Spain gives go-ahead to merging state-owned Bankia and BMN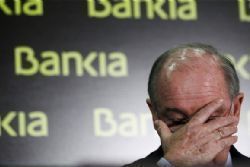 Spain gave the green light to merger talks between Bankia and Banco Mare Nostrum (BMN) on Wednesday as it seeks to claw back public money used to rescue the banks in 2012.
Both banks said they would look at the merger proposal by Spain's FROB bailout fund, while a source familiar with the situation said their boards would approve the tie-up in May and shareholders would be expected to ratify it in July.
Spanish banks have already undergone huge consolidation since the country's financial crisis, with just 14 left from 55 in 2008. Bankia and BMN were given a 24-billion-euro bailout after losses on property loans.
The state owns about 66% of Bankia, the 4th largest Spanish bank and 65% of smaller lender BMN and plans to privatize them both before December 2019.
A privatization of the banks, which together hold 230 billion euros of assets, would mark one of the final steps in cleaning up Spain's banking sector, which was hit when a property bubble burst forcing the government to combine several failing lenders to form Bankia and BMN.
The FROB's go-ahead for the merger comes after a study to find the best exit from the banks after it attempted to sell BMN but only had interest from one bidder.
"The reorganization of these entities, through the merger of Bankia and BMN, is the best strategy to fulfill our mandate of optimizing the recovery of public funds before a future disinvestment process," it said.
The report recommended it sell its stake in the newly merged bank in chunks before the end of 2019, taking advantage of favorable market conditions, it added.
Shares in Bankia rose 3.6% by 1000 GMT to the top of Spain's blue-chip IBEX index. They have risen 41% over the past 6 months, against a 25% rise on the European STOXX banking index.
DIFFERENT FOOTPRINT
The study by consultancy AFI, estimated that the merger would bring Spanish coffers 401 million euros more than the individual sale of each bank, from greater synergies and cost savings, the FROB said in a statement.
Possible synergies total 616 million euros, according to a document seen by Reuters showing the results of the study, which valued the state's 65% stake in BMN at 690 million euros.
Analysts said the merger made sense because each bank had a different geographic footprint, although the combined lender would need to cut staff and branches as banks in Spain struggle with ultra low interest rates and competition for lending.
Bankia, which lost more than 19 billion euros in 2012 due to its real estate holdings, has bounced back strongly since its bailout and now has one of the highest profitability ratios and strongest capital positions among Spanish banks, while BMN's profitability ratio is one of the lowest.
Recommended Reading :
* Bank of Spain backs it's officials over doomed Bankia listing
* Bank of Spain says 3 officials to resign over Bankia IPO case