Jet2 launch increased flight frequencies Leeds - Spain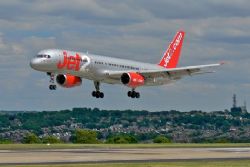 Budget Airline Jet2 have announced an increase in frequency of flights between Yorkshire's Leeds-Bradford Airport and Spain.
Routes to Alicante, Malaga and Majorca are set to jump to twice per day (at peak times), with the Canary Islands seeing an increase in frequency to 17 flights per week. This includes an increased number of flights to Lanzarote (five services per week), as well as Tenerife and Fuerteventura.
Other notable additions include the introduction of flights to Almeria – recently introduced for Summer 2017 – as well as to Girona and Reus Airports.
An increase in the number of flights has also been introduced for Barcelona's El Prat Airport.
Recommended Reading :
* Jet2 announce new Newcastle to Almeria route
* New flights to Spain for Winter 2017/2018