Spain's competition watchdog investigating tobacco companies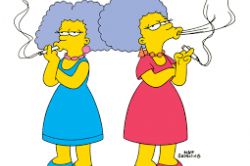 Spain's anti-trust watchdog is investigating tobacco companies for alleged non-competitive practices in the manufacturing, distribution and commercialisation of their products in the country, the CNMC said on Tuesday.
Philip Morris Spain, Altadis, JT International Iberia, British American Tobacco Espana and Compania de Distribucion Integral Logista were all being looked at as part of the investigation, the CNMC said.
The CNMC made surprise inspections of the companies' offices in February and March. The investigation could take up to 18 months to be fully resolved, the CNMC said.
If the CNMC finds the companies have been colluding, it may levy fines of up to 10 percent of their revenues in the year proceeding the ruling.
Logista, an affiliate of Imperial Brands, denied it had taken part in anti-competitive practices and said it was collaborating with the investigation.
Altadis said it was fully cooperating with the investigation and that it was always careful to abide by competition rules. Philip Morris also said it was fully cooperating with the investigation.
BAT and JT International Iberia were not immediately available for comment.
Recommended Reading :
* Spanish cigarette sales plummet 50% in last 5 years
* Spain to investigate Gibraltar smuggling after EU recommendation