Spain to investigate Gibraltar smuggling after EU recommendation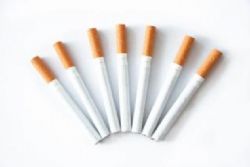 The public prosecutor at Spain's High Court is to investigate tobacco smuggling and money laundering in Gibraltar following a recommendation by OLAF, the EU's anti-fraud office, after a year's investigation into financial irregularities in the British Overseas Territory.
"There are reasons to believe that tobacco smuggling and money laundering that affect financial and other interests of the EU have been committed in Gibraltar," concludes the EU body.
In a letter sent to the Spanish tax office, OLAF recommends both the British and Spanish authorities open judicial investigations into the problem.
OLAF has sent inspectors to Gibraltar on three occasions since September 2013. Spain and Gibraltar have been at loggerheads for several years over the activities of Spanish fishing boats in waters that Gibraltar says are under its sovereignty.
In July 2013, Gibraltar dropped more than 70 large concrete blocks in the disputed zone to create an artificial reef to prevent Spanish fishing boats operating there.
In response, police at the border crossing have been carrying out exhaustive checks on vehicles coming into and out of Gibraltar, creating delays of up to 7 hours, mainly inconveniencing Spaniards. The EU has since said that Gibraltar is not contravening EU environmental legislation by creating the reef.
But the EU's findings on tobacco smuggling are being touted as a victory for the Spanish authorities, who say that they justify the border checks.
Madrid has long complained that Gibraltar is being used as a tax haven by organized criminals.
The government says that more than 117 million packets of cigarettes were imported into Gibraltar in 2013, a figure far higher than that needed to meet the needs of the territory's total population of 30,000: "On this basis, every man, woman and child in Gibraltar is smoking nine packets of cigarettes a day," says a Spanish government source. The Gibraltarian government says that much of the surplus is bought by tourists, although it does admit that some smuggling takes place.
The Spanish authorities say the smuggling problem would disappear if Gibraltar charged the same for cigarettes as Spain does, pointing out that 19% of Gibraltar's GDP and a third of its budget comes from the sale of tobacco. Between January and May of this year, imports of tobacco fell to 36 million packets compared to the same period last year, in large part because of the Spanish authorities' crackdown on smuggling at the border.
"All Spain wants is for international and EU law to be respected," said Josť Manuel Garcia-Margallo, Spain's foreign minister, on August 10.
Spain has also complained to the EU about Gibraltar's bunkering industry (offshore refueling of tankers), as well as the creation of a sandbank on the east coast of the Rock. But the EU has ruled that these do not breach its regulations. Spain says it will continue to pursue the issues.
But the main problem continues to be delays at the border crossing between Spain and Gibraltar. Fabian Picardo, Gibraltar's chief minister, accuses Madrid of playing politics, and has complained to Brussels after Spain introduced a card giving the 6,000 Spaniards who work in Gibraltar quicker access in and out by using a special lane at the crossing.
Spain has also announced that it will be carrying out extensive renovation work at the border over the coming months that could create further delays.
The Gibraltarian authorities have said that giving priority to Spaniards who work in Gibraltar is discriminatory and Picardo has asked the EU to provide permanent observers at the crossing. Gibraltar has complained to the European Commission over what it says are unreasonable controls at the border, saying they violate European Union rules on free circulation.
Spain claims sovereignty over the Rock, which stands on the southernmost tip of the Iberian peninsula, but has been a British Overseas Territory since the signing of the Treaty of Utrecht 300 years ago.
The 1.2-kilometer frontier between Spain and Gibraltar was closed by dictator General Francisco Franco for most of the 1970s, and remained shut for several more years after his death in 1975.
But the UK government has made clear that it will not negotiate over sovereignty as long as Gibraltar's people want to remain British.
Under the previous Socialist Party administration, Spain softened its stance, discussing other issues without bringing up sovereignty, while agreeing to give Gibraltar a voice in any talks with Britain over its status. But the conservative Popular Party government of Spanish PM Mariano Rajoy has taken a harder line regarding its claim on the territory over the last year.
Read the timeline of the ongoing conflict over Gibraltar by clicking the link > HERE <