Spain's hotel sector expects record summer, rising prices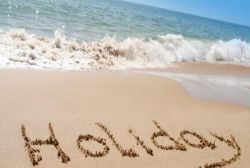 Spanish hoteliers are expecting a record number of foreign visitors this summer, hotel confederation Cehat said on Wednesday, in a boost for the economy.
Spain registered a record 75.5 million foreign visitors in 2016 as the economy rebounded from years in or near recession and as unrest in northern Africa and the Middle East led visitors to seek out safer travel options.
Cehat forecast a rise to 80 million visitors this year.
Tourism accounts for around 11 percent of Spain's economic output and is a major contributor to employment levels.
Some 37 million foreign visitors are expected during the high season of May through to August, Cehat said, up by 2.5 million from last year.
"Expectations are up across all areas, in prices, nightly stays and profits," general secretary of Cehat Ramon Estalella said during a conference by the confederation in Madrid.
Recommended Reading :
* Spanish Economy 'reliant of tourism boom'
* Spain vacation rentals : Offering more beds than Hotels for the first time