Why is Catalonia the Spanish region pressing hardest for independence ?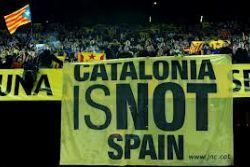 In a small northern corner of Spain, millions speak a language few people off the Iberian Peninsula will ever have heard of. Like Spanish but noticeably distinctive, it's taught in schools and features in newspapers as well as on road signs and radio shows. What's more, it underpins a strong regional identity that means many people in the region don't feel the least bit Spanish.
The place is Galicia, one of Spain's many provinces with a unique personality in the country's diverse mix of regional identities. With 95% of residents speaking the local lingo, Galicia joins the Basque Country and Catalonia as one of the most prominent parts of Spain to consider itself a little different. Yet for some reason, right now, just one of these big three is threatening to tear away.
Support for independence in Catalonia has trebled in the past 12 years, growing from around 13% in 2005 to as much as 44% now, according to opinion polls. This dramatic shift is partly a consequence of economic turmoil in the wake of the 2007 financial crisis, coupled with a sense that wealthy Catalonia, responsible for a fifth of Spain's gross domestic product, bankrolls poorer parts of the country.
It also speaks to the success of a concerted effort on the part of regional leaders to use the tools of government to nudge people in their favored direction. The culmination of all this is a promised referendum slated for October 1 this year, which has deepened tensions with Madrid where the central government has declared the poll unconstitutional. It also comes three years after another unofficial referendum left then-leader Artur Mas fined and barred from public office for two years.
Galicia is causing the Spanish government no such trouble, and it's partly thanks to history. Today only about one in five Galicians, or gallegos, supports independence, even though nearly all speak the regional language. According to Dr Alejandro Quiroga, an expert on Spanish history at Newcastle University, this is partly because the region has historically been poorer than Catalonia, meaning it is far more common for Galicians to leave their native land for work. And so a more sympathetic attitude toward immigration – be that from inside Spain or abroad – has been embedded in the regional psyche.
Dr Quiroga says: "It's about the society that is created out of the lack of industry and in many ways the relationship the society has with immigrants. And in this case, Galicians are immigrants themselves so they don't have the figure of the national other in the same way that you have in the Basque Country or Catalonia."
The Basque Country, like Catalonia, has also historically been richer than Galicia, and nowhere is this more obvious than in the region's largest city, Bilbao. A short walk from the world-famous Guggenheim Museum – designed by architect Frank Gehry in a nod to Bilbao's successful industrial past – is the towering headquarters of Spanish energy giant Iberdrola. Together these buildings speak of an economic dominance that has been central to constructing Basque regional identity. And in many ways the resulting drive for independence has been a similar story to Catalonia's, but with one crucial difference: ETA. In their militant nationalist campaign against the Spanish state, the armed Basque separatists killed hundreds of people from the mid-20th century until the group declared a ceasefire in 2011. Since then, says Dr Quiroga, support for independence has been steadily growing. "In many ways we could say that ETA was hampering the pro-independence movement because many people were against violence," he says.
The notoriously difficult Basque language – which, unlike Catalan and Galician, has no linguistic relationship at all to Castilian Spanish – may also have held things back. London School of Economics lecturer Dr Jose Javier Olivas Osuna says that while language in Catalonia has been key to a "process of Catalanisation," for Basque supporters of independence there is a risk of "alienating" people by using it in the same way – because far fewer people speak it. Catalan leaders, by contrast, have invested heavily in their language over recent years, at the expense of Castilian Spanish. Now in many of the region's schools, children receive as little as two or three hours of Spanish teaching, while mainstream subjects are taught entirely in Catalan.
Many Catalans also feel hard done by because they believe the Basque Country gets better treatment from Madrid, with a more preferential fiscal deal that effectively means less of the region's income is redistributed around Spain. According to Dr Olivas, this perceived unfairness initially played a role when Catalonia's former premier Artur Mas assumed power back in 2010. "When he became the premier of the Generalitat [as the Catalan government is known], he didn't call for independence, he wanted a fiscal deal like the Basque one," Dr Olivas says. But as a far larger region of some 7.5 million people, more than three times the size of the Basque Country, Catalonia was unable to persuade Madrid to make the substantial concessions.
Above all else, the story of Catalonia's vociferous drive for independence mirrors one that has played out worldwide since the 2007 financial crisis. In the US, disillusionment with ruling elites put Donald Trump in the White House, and in Britain it produced Brexit. For Catalonia, independence from Spain is the alternative. One thing is for certain though: if the region leaves it will be disastrous for Spain, costing the country one fifth of its GDP and 16% of its population. What's more it may not be the end of the nation's woes.
Pro-independence Catalan leaders have used aggressive strategies in their bid for sovereignty and it's meant they've made great strides. But it remains to be seen whether they'll achieve their goals. As Dr Olivas says: "I think the Basque nationalists may have realized that this is the wrong strategy and that the Catalans are going to hit a wall very soon. So they are just waiting and seeing what the Catalans are doing, but saying, 'We don't want to be part of this experiment'."
If the Catalan strategy turns out to have been right all along, Basque leaders could start to think again. In Spain's patchwork quilt of robust regional identities, Catalonia may not be the last of Madrid's worries.
Recommended Reading :
* Over 65% of Catalans likely to vote for leaving Spain at referendum
* Catalonia prefers greater autonomy over independence from Spain