Spain tells Catalonia will cut off funds if used for referendum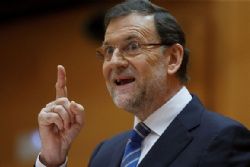 The Spanish government told Catalonia on Friday it would lose access to some public funds if found using state money to organise a referendum on independence that Madrid says is illegal.
The wealthy northeastern region plans to hold a popular vote on whether it should secede from Spain on Oct. 1, which the central government says cannot go ahead because it is unconstitutional.
Spain's regions pay taxes to the central government and are then given a quota to spend on health, education and public infrastructure, a system Catalonia - which has one of Spain's strongest regional economies - says is unfair.
Madrid also sends extra funds to the Catalan government under a programme - the Autonomous Liquidity Fund (FLA) - set up during the economic crisis, when Spain's regional governments were all but cut off from international debt markets.
Catalan authorities will be obliged to provide weekly accounts to show no public money is being used to promote the independence drive, or lose access to the FLA, central government spokesman Inigo Mendez de Vigo said on Friday.
"The Autonomous Liquidity Fund payments are conditional on compliance with the agreement," de Vigo told a news conference following a weekly cabinet meeting.
The government has sent some EU67 Bln to Catalonia since the FLA fund was created in 2012, and EU3.6 Bln this year.
"Not one euro of the Catalan money will go to an illegal referendum," de Vigo said.
Support in Catalonia for independence from Spain fell to 41.1% in June, a survey showed on Friday - its lowest level since the separatist campaign gained traction in 2012.
The percentage actively against separation from Spain rose slightly to 49.4% in June, according to the poll by the regional government's Centre of Opinion Studies, from 48.5% in March.
Recommended Reading :
* Support for an independent Catalonia declining
* Catalonia to split from Spain within 48 hours of secession vote referendum