Catalonia public workers torn over independence referendum dilemma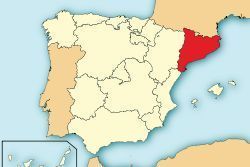 For Catalan philosophy teacher Enrique Beck and his high school colleagues, an October referendum planned by the region's separatist leaders on splitting from Spain poses a dilemma.
Teachers, police and administrative workers are among civil servants who will have to choose whether to obey orders from their regional bosses to help with the vote, or follow commands from the central government that opposes the plebiscite.
In both cases they could risk fines or potentially the loss of their jobs - either for breaking Spanish law or for going against the wishes of leaders in the northeastern region.
Schools, often used as polling stations in Spain, must decide whether to open their doors on Oct. 1 to let voters in. The issue has split Beck's workmates and is of special concern to their bosses, who have been warned they could face sanctions.
"I think most of the people at my high school are in favour of opening up, around 70 percent," said Beck, 58, who works in the small town of Tremp, which tends to back pro-independence parties.
Beck is in the minority against the referendum among his colleagues, though the decision on whether to hand over the school keys to authorities for the referendum will probably rest with the principal.
The confrontation between the central government in Madrid and separatist leaders in affluent, populous Catalonia - long home to an independence movement that intensified dramatically during a recent recession - will reach an apex in coming weeks.
While Spain's conservative government has vowed to stop the referendum through the Constitutional Court, Catalan regional chief Carles Puigdemont fired one of his advisers in early July after he publicly expressed doubt about how the vote could go ahead and said he was concerned about the financial penalties.
Three other high-ranking members of Catalonia's regional government also resigned days later, replaced by people seen as more vocal defenders of independence, as did the head of Catalonia's police force and of the emergency services department.
Gea In Catalonia, local police report to regional authorities, who are also responsible for education and welfare spending.
"We're very worried, especially regarding those in the education sector who might be asked to open up as a polling station. As civil servants, we should remain neutral," said Joan Escanilla, who chairs the CSIF civil servant's union in Catalonia.
Reassurance to Civil Servants ?
The regional government has said that the responsibility for the referendum and any consequences it might have will rest with its political leaders and not with civil servants.
"The Spanish state is using these kinds of arguments to scare people," a spokesman for the Catalan government in Barcelona said.
In practice, many politicians or public workers potentially affected by the vote hope they will not have to choose between one set of commands and another. They argue that the referendum is unlikely to go ahead as outlined by Puigdemont, who wants it to be legally binding.
"We all know that in 24 hours this will be stopped," said Antonio Balmon, the Socialist mayor of Cornella de Llobregat, on the outskirts of Barcelona.
City councils normally help out in elections by overseeing polling logistics or providing security support.
Balmon believes this referendum is likely to end up being similar to a non-binding, symbolic vote held in November 2014 as a form of demonstration, after a series of legal blocks.
Yet even that mock vote had consequences - the former regional head, Artur Mas, was barred from public office for two years after he was found to be in breach of a court ruling linked to that referendum.
He may also have to pay several million euros to cover the costs of holding the 2014 vote out of his own income.
Recommended Reading :
* UN Stonewalls attempt to give Catalan referendum global legitimacy
* Why is Catalonia the Spanish region pressing hardest for independence ?