Spanish PM in Congress : "To vote against democracy or outside of it is not democracy"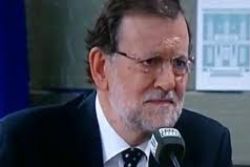 Spanish PM Mariano Rajoy addressed Congress on Wednesday afternoon to talk about his government's plans, a day after Catalan premier Carles Puigdemont declared independence, then immediately placed it on hold.
Rajoy confirmed that he has requested the Catalan government to clear up whether independence has indeed been declared, in which case he would activate a constitutional provision giving the central government power to temporarily take over Catalonia's affairs.
"We have requested from the Government of Catalonia to confirm whether it has declared independence, regardless of the deliberate confusion which was created yesterday. The reply that Puigdemont provides will mark future events. It is in his power to return to the path of legality," he said.
Rajoy insisted that he is open to dialogue, and even suggested the possibility of constitutional reform, but only if Catalan authorities backtrack on their breakaway laws.
"Democracy cannot be exercised outside the rules that govern it; wherever these rules are violated, democracy does not exist. To vote against democracy or outside of it is not democracy."
The Socialist Party (PSOE) and Ciudadanos sided with the government in its support for the constitutional framework. Unidos Podemos requested a legal referendum to ascertain once and for all whether a majority of Catalans really want independence or not.
"I don't have children, but I would like to, and I would like them to know a Spain with Catalonia in it, and that can only happen if a referendum is held," said Podemos leader Pablo Iglesias. Then, addressing Rajoy: "Do not apply Section 155 of the Constitution; act like a head of government and stop breaking up Spain."
Joan Tardá, of the Catalan Republican Left (ERC), part of the governing coalition in Catalonia, accused the central government of "ramping up repression" against a "peaceful nation without a state."
Recommended Reading :
* Independence in Catalonia : Now What ?
* Spain's creditors size up cost of Catalan Independence