Catalan leader must drop independence by Thursday - Spain Deputy PM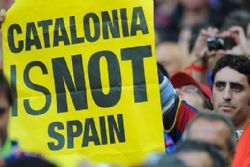 Spain's government will take control of Catalonia and rule it directly if Catalan leader Carles Puigdemont does not drop a bid to split the region from Spain by Thursday at 1000 a.m. (0800 GMT), deputy Prime Minister Soraya Saenz de Santamaria said.
"Mr Puigdemont still has the opportunity to start resolving this situation, he must answer 'yes' or 'no' to the declaration (of independence)," Saenz de Santamaria said.
Madrid had given Puigdemont until Monday 10:00 a.m. (0800 GMT) to clarify his position on independence with a "Yes" or "No", but the Catalan leader did not directly answer the question.
Recommended Reading :
* Spain rejects Catalan reply paving way for suspending self-rule
* 3 Scenarios for Spain-Catalonia stand off