Rajoy Promises no public spending cuts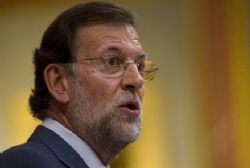 The Partido Popular's candidate for the coming Elections, Mariano Rajoy, spoke in an Interview earlier today, promising not to cut public spending on pensions, education or health services .
Speaking with TV Station, Telecinco, he went on to promise to reduce the nation's spiralling deficit.
An opinion poll published by El Pais this morning shows the PP ahead with 44.8% of the votes compared to the PSOE with 30.7%, which is unchanged would allow Rajoy and overall majority in Parliament.
This makes it very likely that Rajoy will assume the unenviable position of inheriting an almost 21% rate of unemployment together with a deficit that has now reached 9.2% of GDP.
Rajoy also wants to bring changes to Employment law, introducing new type of contract with modification to severance pay requirements, which encourage employers to use open-ended as opposed to temporary contracts for their employees. According to the National Institute of Statistics (INE) 26% of all employees in Spain are currently on temporary contracts.
The Conservative also denounced a call by the PSOE's Rubalcaba, to re-introduce a wealth tax, saying how it punished savers. Alfredo Perez Rubalcaba has the difficult position of trying to come from behind in the polls to win back voter, disillusioned after 7 years of Socialist rule.