Largest Quake Yet Hits El Hierro - Thurs am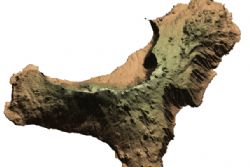 Seismic activity on the smallest of the Canary Islands, El Hierro, more than doubled on Wednesday with the increased number of earth tremors and shocks continuing this morning (Thursday).
At 09.12 this morning an earthquake measuring 3.8 on the richter scale was recorded at a depth of 15km, which represents both the strongest of the 8'200 + earthquakes, and the most shallow. The Epicentre was roughly the centre of the Island, measured at 26.67 longitude and 18.07 Latitude, just south of the Village of Tigady and South-West of la Frontera.
Yesterday the schools in La Frontera, and the Tunnel connecting with the Island's main town, Valverd, were closed to concerns over the tremors triggering land slides and rock falls.
One Volcanologist, Juan Carlos Carrecedo commented: "There is a ball of magma rising to the surface producing a series of ruptures which generate seismic activity. 'We don't know if that ball of magma will break through the crust and cause an eruption." But it was difficult to give an exact time or date of any likely eruption.
Another volcanologist at Madrid's Complutense University, Eumenio Ancochea, told the press that the population was not in any danger and that "After an eruption the lava advances at a few metres per hour and you can easily take photographs as it descends."
Volcanologists believe that previous Volcanic activity, possibly 50'000 years go, caused a part of the Island to slide into the Atlantic, creating the el Golfo Valley and causing a Tsunami that could have been over 300 foot in height and causing damage to the coast of South America.
Read further news stories about the El Hierro Volcano by clicking the link HERE .