Madrid School taken to court over headscarf ban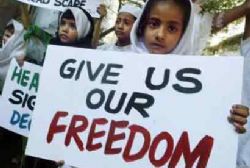 The contraversy over Spain's acceptance of Muslim headcoverings has arisen once again - this time due to a school in Madrid being taken to court over their insistance that a Muslim schoolgirl removed her headscarfe in order to take part in an exam.
Whilst the Enrique Tierno Galván school permits the wearing of such scarfes, it asks for them to be removed during exams as previously pupils had been caught hiding earphones under various headcoverings as a means of cheating.
The schoolgirl in question refused to comply with the request and as such was suspended from school.
The lawyer representing the family claims that the school's request was illegal in accordance with the Ministry of the interior, which states that such headscarfes can be worn as long as the person can be clearly identified.The wearing of such religious headcoverings is one that refuses to go away. It was first thrust into the public domain almost two years ago, in November 2009, when a Muslim lawyer was removed from the high court in Madrid for refusing to remove her headscarf. The lawyer, a Spanish citizen of Moroccan origin, was attempting to defend a client at a trial that was being held at the court.
In April of last year another Madrid schoolgirl was suspened after she refused to remove her hijab, in violation of the school dress code. She was eventually joined by three other Muslim girls who began wearing the hijab as a "gesture of solidarity".
In December 2008, a Muslim leader in Tarragona was arrested for trying to force a 31-year-old Moroccan woman to wear a hijab against her will. The local prosecutor had called for the cleric and three others to be tried and jailed for harassment. But the imam was eventually cleared of all charges after the Socialist mayor of the town said she wanted to prevent "a social conflict."
In October 2007, an eight-year-old Moroccan girl was suspended from school in Girona for refusing to remove her hijab in class. In that case, the regional government of Catalonia in north-eastern Spain intervened by ordering the school to allow the girl to wear the hijab on grounds that it would be discrimination for them to refuse.
The first such incident in Spain happened almost 10 years ago when a 13-year-old Moroccan girl, was expelled from the Roman Catholic school for refusing to remove her hijab in school.
last July Parliament discussed a proposal brought by the PP to ban the burqa in public spaces, as a' defense of the dignity and equality of all women', but this was overturned.
In May 2010, Lérida (where 29,000 Muslims make up more than 20% of the population) became the first municipality in Spain to ban the burqa in all public spaces. Women found violating the ban will be fined up to €600.
Immigration together with a low Spanish birth rate, compared to a relatively high birth rate of Morrocan nationals, has lead to many Spaniards fearing that their way of life is coming under threat. Many Spaniards have concerns that the 1 Million Muslims in Spain - some 2% of the population - are not assimilated in the wider community, and that making concessions over headcoverings only widens the gap further still.
It is widely expected that thsi will be a subject that will be discussed again in Parliament in the likely event of the PP assuming power after the November general election.