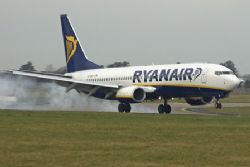 Further to Ryanair's announcement that they are departing from Reus airport in Tarragona at the end of October, there are signs that the airline has had a change of direction given that tickets have been put on sale for six routes to the airport on their website.
The routes currently being promoted are : Frankfurt, Bristol, East Midlands, Glasgow, Manchester and Dublin, with flights being offered between April and June of next year.
Ryanair were not contactable for any comment with regards to the move.
Even so, the terms and conditions advertised by the company clearly state that routes may vary and can be changed by the airline, who reserve the right to offer an alternative route if a flight is cancelled for any reason. It could therefore be the case that the airlines is simply gauging the level of demand before making any final decision.
The launch of these offers comes at a difficult time in negotiations between Ryanair and the Strategic Board of the Generalitat de Catalunya to promote the airport. The board itself was only formed a couple of weeks ago, with a brief to seek out alternative business opportunities following the departure of Ryanair.
No other news or information is shown on Ryanair's own website, so for now it remains to be seen if any tickets that are booked will be honoured by the airline.