My favourite airline strikes again !
It seems that flying economy now means that you waive all rights to be treated with courtesy and to expect a decent standard of cutomer service. Nor should you expect that you should be able to take any luggage or even sit down apparently – according to latest reports of how one particular economy airline is expected to evolve over the next few months.
My particular favourite economy airline (# Sarcasm Alert #) last week announced that with immediate effect they would be ceasing to provide any check in desks at their airports. Instead, they report, passengers should check in on-line and take no more than the stipulated 10 kilos hand luggage. If they require to take any additional luggage (Gasp !) then this would need to be checked into the hold, via the special luggage drop desk, and pay a 30 pounds sterling surcharge for the privelege of doing this. Furthermore – if the passenger forgot to check themselves in online (or failing that, did not have access to the internet),then they would also need to use the same special check in desk to do this – and be penalised a further 40 Pound sterling for doing this.
If, for any reason, the passenger had a querie or question that could not be answered on-line (Such as "Can I book an extra bag into the hold on just the Inbound leg of a return flight?") then you have to call a customer service call center, be placed on hold for 15 minutes and pay 10 pence per minute (40 cents if you are calling from Spain) - only to be be told No! - What a money-spinner !
One of my earlier blogs mentioned that the same airline is also charging to retrieve left luggage and even use the toilet !
To get back on point – it seems that by charging fines, penalties, surcharges and numerous other "extras", that there will be no such thing as a cheap flight any more. Even if this said airline does advertise a flight for " Free " , then the additional taxes and charges will snowball and when everything is totalled it will cost roughly the same as a similar ticket from a premium airline. That's putting aside the fact that in many cases the airport of your chosen destiniation is usually a disused potato field in a rural backwater town - miles away from anywhere : Their " Barcelona ", for example, is listed as an airport, when in fact it is actually situated in a town called Reus and is infact located 109 kms outside of Barcelona itself. The true Barcelona (Ref BAR) is a totally different Airport to their "Barcelona" (Ref BCN)- so you need to factor transfer cost into your ticket fees aswell !
The same airline expects to net over 650 Million Euros in 2009 on these "Hidden Charges" alone, and if their current request with the Irish Aviation Federation is approved, they may increase capacity on their short-haul flights (Such as UK > Spain) by over 50% by introducing new "Bar Stool" type seats instead of the traditional recliners !
So who do you trust and respect ? - An airline who is upfront and honest about the cost that you should pay for a ticket and the quality of service that you can respect in return, or an airline that will only advertise the initial cost for the ticket – leaving you to find out the true cost as the various surcharges come to light. An airline who seems to place cost above value ?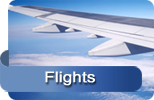 Tumbit Flights
Regardless of where you live or your reasons for visiting Spain, the whole process of searching for the cheapest and most convenient flights for you and your family can be time consuming. That's why here at Tumbit we have partnered with Cheapflights, who search through hundreds of available flights every day to find the best deals for you.