ETA to call permanent ceasefire (again)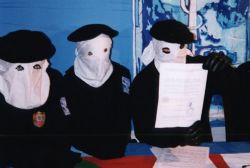 The ETA Terrorist group is expected to make an official announcement later this evening to confirm that it will end its armed campaign in Spain.
The Basque separatist group is due to release a statement which it is understood will commit to peace after more than 40 years of violence.
The terrorist Group has been blamed for the deaths of 829 people during its campaign to gain independence for Basque territories in Spain and South-Western France.
Former Eire President Bertie Ahern and Sinn Fein President Gerry Adams met with a number of representatoves from ETA and othe rpolitical parties earlier this week who were attending talks concerning the issues of the region.
ETA have declared "permanent ceasefires" before, with the last one being in March 2006, however, this 'ceasefire' ended just 9 months later when terrorists exploded a bomb in the Madrid-Barajas airport car park killing two men. The group cited a breakdown in negotiations.