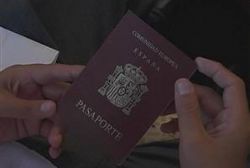 Being eligible for Spanish citizenship depends largely on the nationality of your parents, your current nationality and the length of time that you have being living in Spain. If one of your parents is Spanish, you were born there aswell as one of your parents being born there, or you were born in Spain of foreign parents who have no nationality, the your application to become a Spanish citizen will automatically be accepted.
In the majority of cases foreigners must have been an official resident in Spain for 10 years – only then can apply for nationality. Notable exceptions are for anybody who is a political refugee or asylum seeker, who can both apply for Spanish citizenship after 5 Years. Anybody whose current nationality is given as being from Andorra, the Philippines, Equatorial Guinea, Portugal,or being Jewish of Spanish origin*, and those from certain South American countries can all apply after 2 years.
The qualifying period of residence may be 1 year in the following circumstances:
1.) Those who were born in Spain, whose parents are foreigners of no recognised nationality, but legally resident in Spain.
2.) Those whose spouse has Spanish nationality.
3.) Those who are widowed of a Spanish national (providing not separated at time of death).
4.) Those whose father, mother, grandfather or grandmother were Spanish nationals by birth or residence.
It is also a condition that the application for citizenship must come the after the period of residence in Spain – ie not if you had residential status a number of years ago that had since lapsed. Marriage to a Spanish citizen alone will not be enough to have a work permit granted, but a formal application is very often granted. Children who are adopted by Spanish parents from other countries automatically become Spanish citizens, although an adopted child over 18 or older (at the time of adoption) will be given the choice whether to take Spanish nationality or not.
How to Apply
The formal application must be made to the Minister of Justice, who are able to refuse it on grounds of public order or national interest. The process requires you to produce your birth certificate, marriage certificate (if applicable), and your parents' birth and marriage certificates - all of which must be officially translated into Spanish.
You will also need to produce a letter of good conduct from the Police (basically to verify that you are not a criminal), a statement from two Spanish citizens supporting your application, and you must also prove that you are 'a good citizen' and fully integrated into Spanish community. As with most formal processes in Spain we recommend that you engage the services of an experiences lawyer to help you in your application.
The law in Spain does not recognise dual nationality for adults* like many other countries do, and therefore a child who has the entitlement to choose between nationalities must make this choice when they reach 18. A foreigner applying to be a Spanish citizen must also renounce his current nationality (with the exception of Portugal and South American countries), swear allegiance to the King of Spain, and swear to abide by the Spanish constitution and laws. Some countries, such as the UK, don't recognise a renunciation of nationality, regardless of whether its citizens have chosen to take another nationality or not.
* Following changes to the law of 07.02.2014, click >> HERE << to read how changes to the law affect Sephardic Jews.