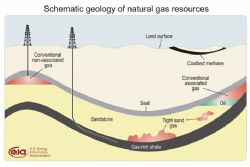 Last month's news that a gas field has been discovered in the Baque country, which has the potential to supply Spain's requirements for the next 5 years, has attracted criticism from a number of envirnomental groups.
Exploratory surveys have identified 13 unconventional gas holdings of around 180 billion cubic meters in Alava, know as Gran Enara.
Two wells are to be drilled initially to see if extraction is technically feasible and economically viable.
Natuaral gas currently accounts for 42% of the region's energy demands, and Spain imports almost 100% of its gas and oil supply.
The problem is that non-conventional gas is attached firmly to subterranean rocks, rather than sitting in pockets, and is more difficult and costly to extract. The gas is released from the rocks by a process know as "Fracking", which involves the targetted area being applied with a high pressure jet of water, sand and chemical additives, which environmentalists say causes pollution.
The process of fracking hit the headlines in the UK this week after being blamed for causing two earthquakes in North-West England.
Six protesters from campaign group 'Frack Off' climbed a drilling rig at a test drilling site in Hesketh Bank, near Southport, where fracking is beleived to have been the cause of one tremor with a 2.3 magnitude on the nearby Fylde coast on 1 April, followed by a second at 1.4 on 27 May.
A subsequent study by The British Geological Survey placed the epicentre for each quake about 500m away from the Preese Hall-1 well, at Weeton, near Blackpool.