El Gordo Lottery Prize Fund Increased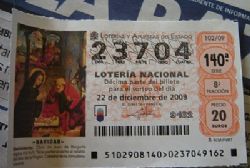 This years "El Gordo" lottery draw will carry a jackpot fund of 4 million euros.
Each winning`Decimo´will now be worth 400´000 Euros - 100´000 Euros more than Christmas 2010.
The second prize has also been increased from 1 million to 1,250,000 per series (125.000 euros per décimo), however the third prize remains unchanged at 500,000 euros for the series (50,000 euros per décimo).
Sales for the popular Christmas lottery draw currently stand at 3.6 billion euros, averaging more than 70 Euros per person.
"El Gordo" accounts for more than 30% of the total yearly revenue for Loterias y Apuestas del Estado (the State Lottery Fund), with 70% of the Christmas ticket sales (2.52 Billion Euros) being distributed in prizes.
The Government´s decision to privatise the Loterias y Apuestas del Estado will be undertaken in the new year, where the public entity will be replaced by a newly-created State Wagers and Lottery Company, which will report to the Ministry of Economy.
The draw will take place at Madrid's Palacio de Congresos on December 22nd and will differ from previous draws as two drums will be used: Winning numbers will be taken from one drum and their corresponding prizes from the other. Ticket number shave increased to from 85,000 to 100,000 numbers in total, which has allowed the prize fund to increase whilst the ticket price remains the same as previous years.