Ryanair to restore routes at Girona and Reus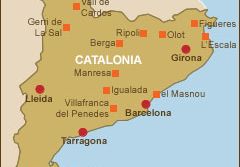 Ryanair has announced a preliminary agreement with the Generalitat of Catalonia to base additional aircraft and increase traffic at the airport of Girona, and to restore routes in Reus, as from April 2012.
The airline now expects to fly some 3 Million passengers per year to Girona, and 500´000 to Reus, which would secure 500 jobs at the Tarragona airport.
The departure of the airline at Reus was expected to result in the loss of 300 employees indirectly, of which 60 (40 permanent and 20 temporary) positions are employed by Lesmo Handling, who are contracted by Ryanair at the airport.
However, Ryanair has warned that this draft agreement will only be confirmed if AENA maintains it´s current rates at both airports, otherwise the draft agreements will be canceled, and alternative and more competitive routes will be established.
This provisional agreement comes less than 2 weeks after the airline ceased using Reus as base of operations, and suspended all flights for the winter period, citing the Region´s increasing costs and lack of promotion for tourism in the area.