Expropriation of property surrounding Alvedro airport enters compulsory phase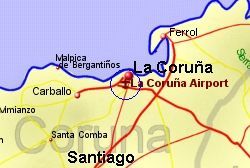 The period of voluntary surrender to AENA for properties earmarked for compulsory purchase by Alvedro airport has now come to an end.
A number of properties surrounding the airport at La Coruna, Galicia, had been handed a compulsory purchase order by the Ministry of Development to allow for the extension of the runway at the airport.
A meeting was held between Town hall officials, the Ministry and those who had yet to surrender their properties with regards to finding a resolution.
AENA reports that they have already paid out 77% of compensation to those affected, with the outstanding 23% being for rural lands which does not have any property or business associated with it. The values of compansation payments due in these cases are still being calculated.
The compulsory purchase order will affect some 378 farms covering a total area of ​​321,581 meters square, with one third of them (132 plots, which represent a total of 99,166 meters squared carrying urban classification. Furthermore,, there are 242 rural parcels occupied (216,939 meters square) and four urban unrated (5476 meters square).
The compulsory purchase process began in August 2010, with initial compensation offers being made to the effected property owners back in march of this year.