Iberia pilots to vote on strike over new airline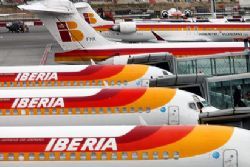 The pilots and crew of Spanish air carrier Iberia will decide on Nov. 30 whether to take strike action against the company's plans to launch a low-cost carrier - to be named Iberia Express - with new, and cheaper, personnel, a union spokesman said.
Iberia, which operates under the International Consolidated Airlines holding since merging with British Airways, wants to launch a new airline next year to compete with low-cost rivals like Ryanair and Easyjet.
"Our pilots support the strike, while among the crew some unions are in favour and others against," a spokesman for the SEPLA pilots union said on Tuesday.
The new airline would feed connections to Iberia's profitable long-haul routes. It would run 13 planes with a workforce of 500 people, but unions fear the plan threatens their own jobs and conditions.
Iberia currently has 1,500 pilots and nearly 5,000 cabin crew.