El Hierro Volcano Update : 29th November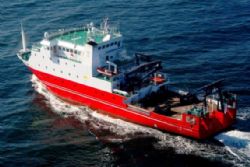 Scientists from the National Geological Institute (IGN) observing the activity on the Canary Island of El Hierro have recorded four earthquakes since Midnight on Monday.
As with previous days and weeks, the earthquakes were centered in and around the El Golfo bay area off the coast of Frontera, to the North of the Island. Magnitudes varied from 1.9 to 3.2 on the richter scale, with depths varying from between 15 to 20kms. The strongest of the quakes was measured at the shallowest depth.
Today also marks one of the quietest periods of activity since the recent earthquake swarm began on 17th July.
Meanwhile, the Sarmiento de Gamboa oceanographic research vessel has arrived in the area to study the seismic and volcanic activity in both the El Golfo bay to the north, and Las Calmas bay to the south of the island, alongside the Ramon Margagleff.
Many thanks to El Hierro : Living in the shadow of a Volcano for use of the photo.
Read further news stories about the El Hierro Volcano by clicking the link HERE .