Madrid to serve 1.8 Mln passengers over holiday week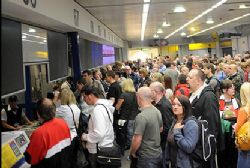 Almost 420,000 passengers will travel to the Balearic Islands on 3´127 scheduled flights between Friday 2nd and Monday 12th December due to many Spaniards taking advantage of the 2 National Fiestas this week to take an extended holiday, according to AENA sources.
Mallorca´s Son Sant Joan airport is expected to receive 328,754 passengers on 2,282 scheduled flights until Monday 12th December.
Ibiza airports is anticipated to see the arrival of 57´912 passengers until 12th December on a total of 513 aircraft operations.
Menorca, expects to welcome 32,268 passengers on 332 flights for the same period.
The busiest day for passenger numbers is at Palma (Son San Juan) airport Sunday 11th December, with 37´120 passengers on 245 flights.
AENA report that, In general, more than 6.2 million passengers will travel on scheduled flights before, during and beyond the two fiestas days of the 6th and 8th of December.
Madrid -Barajas airport is expected to see the largest number of flights over the`puente´with a total of 11,593 flights over the 11 day period, serving some 1.8 Million Passengers.
Barcelona-El Prat airport expects to process 1.2 Million passengers on 7´732 flights.
This week, traditionally the busiest week for air travel in Spain for the calendar year, marks the anniversary of the disruption caused by the wildcat strike by AENA air traffic controllers. The disruption, which lasted for several days and resulted in the closure of Spanish airspace , was only resolved by the intervention of the military.