Spainīs largest solar facility to be operational by July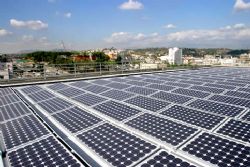 Two of Germanyīs largest manufacturers : BayWa Ag, from the Agricultural and Construction sector, and Wirsol Ag, from the Solar Energy sector, are working together on a joint venture to build Spainīs largest Photovotaic facility.
The complex, which will be located 70km North-West of Alicante, will be the result of €200 million in investment and, at 70 Megawatts will be the largest such facility in Spain and one of the ten largest in the whole of Europe. The new plant will be 10 MW larger than the current largest facility in Spain, at Olmedilla de Alarcon.
Construction of the project is due to commence in April, connected to the grid by July, with the plant becoming fully operational in January 2013.
A feed-in tariff of 11.71 euro cents per kilowatt hour has been agreed, with a total of 130ī000 residents expected to benefit from the supply of energy.