El Hierro Volcano Update : 10th, 11th, 12th December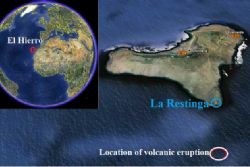 Scientists from Spainīs National Geological Institute who have been observing the seismic and volcanic activity on the Canary Island of El Hierro have recorded just one Earthquake over the weekend ( 23.59 Friday - 09.00 Monday GMT).
The single incident took place in the early hours of Monday morning, located in the El Golfo bay area off the coast of Frontera to the north of the Island.
The earthquake was not felt by local residents on the island, having a magnitude of just 1.8 on the richter scale and being at a depth of 18kms.
At almost 5 Months to the day since the recent earthquake swarm began on the 17th of July, and with the total number of events felt to date reaching 11ī903, questions are being asked if this now indicates that the seismic activity is reaching an end.
The IGN and PEVOLCA believe that the Seismic activity to the north of the island is directly connected to the underwater volcanic eruption in the Las Calmas bay area, to the south of the Island and off the coast of La Restinga.
Maria Jose Blanco, director of the National Geographic Institute (IGN) told the press "We will have to wait and see how it evolves.... we must keep in mind that this eruption now has surface formations [the pyroclastic rocks], there is no seismic activity and tremors are still falling."
Read further news stories about the El Hierro Volcano by clicking the link HERE .