Spain yields still high at T-bill sale, Belgium drops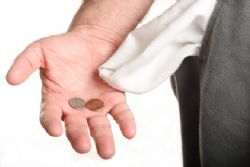 Spain and Belgium's short-term borrowing costs dropped sharply at Treasury bill auctions on Tuesday, though yields remained painfully high for Madrid as nervous markets braced for a raft of potential euro zone rating downgrades.
Spain's Treasury easily sold 4.9 billion euros of 12- and 18-month Treasury bills, above the top end of the targeted range, at rates of almost one percentage point below the 14-year highs seen in a similar auction in November.
However, not counting November's jump, it still paid levels not seen since 2007 and the yield on the country's 10-year bond in the secondary market rose around 7 basis points following the sale to 5.9%.
"While representing a clear improvement on the last auctions, today's yields remain elevated and, hence, in terms of contagion risk, these sales represent a temporary stay of execution," senior fixed income analyst at Rabobank Richard McGuire said.
"For a more lasting improvement in Spanish debt sustainability, a circuit breaker at a systemic level is required."
Yields on Belgium's short-term debt dropped over 140 basis points to 0.78% from a month earlier when it raised 1.1 billion euros for a March 2012 T-bill amid strong demand, buoyed by the formation of a new government last week.
Meanwhile, Greek funding costs rose at a sale of 1.625 billion euros of 6-month T-bills on Tuesday, at yields of 4.95%, up from 4.89% at the last auction Nov. 8.
DOWNGRADE THREAT
Investors are concerned rating agency Standard and Poor's will follow through on a threat to downgrade 15 euro zone countries after the region's leaders failed calm markets with an accord on how to get to grips with the debt crisis at a summit on Friday.
If for instance France were to lose its coveted triple-A rating it would threaten the rating of the region's aid fund, the European Financial Stability Facility (EFSF) bailout fund, which would put its own ability to find investors at risk.
The EFSF will sell three-month bills at its first auction in a programme of short-term debt issuance designed to increase funding flexibility later on Tuesday.
The high cost paid by Spain at its short-term sale showed debt markets wanted to see more than long-term fiscal rules aimed at preventing future crises to end the current one that has dragged on for two years.
The average yield on Tuesday's 12-month issue was 4.05 percent, compared with 5.022% last month, and it was 4.226% on the 18-month bill, after 5.159% in November.
Both sales saw solid demand. The bid-to-cover ratio, an indicator of investor appetite, was 3.1 on the 12-month bill and it was 5.0 on the 18-month compared to 2.1 and 6.0 respectively at the last auction.
The sale gave heart to the Treasury for when it returns to longer-term debt markets on Thursday to raise up to 3.5 billion euros in three bonds maturing 2020, 2021 and 2016, though one analyst said the distinct nature of the issues made them difficult to compare.
"This is defensive, this is balance sheet paper, there may be the odd FX reserve manager who has looked at it and picked them up ... it doesn't really tell us how the auctions on Thursday are going to go," strategist at Monument Securities in London, Marc Ostwald said.