Migrants from euro zone strugglers flock to Germany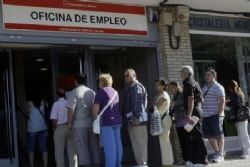 Greeks and Spaniards with little or no chance of finding work at home are flocking to Germany in search of jobs, data showed Thursday.
Figures from Germany's statistics office show immigration has surged in the wake of Europe's debt crisis, as Germany's powerful and so-far resilient economy attracts those from crisis-hit euro states.
The number of immigrants arriving from Greece soared 84% in the first half of 2011, while those coming from Spain rose 49%. In total 67,000 more foreigners moved to Germany than in the same period a year earlier.
"It's striking to see the strong rise in immigration from European Union countries particularly hard-hit by the financial and debt crises," the office said.
Germany pulled out of the 2008-9 financial crisis faster than its peers, growing by around 3% in 2011 as a domestic consumption boom and strong demand for German exports fuelled the economy.
Unemployment in Greece is running at 17.7% and expected to continue climbing through next year, while in Spain more than one in five are out of work. By contrast, Germany's joblessness rate of 6.9 percent is its lowest in two decades.
"Every day I'm inundated with calls from Greece from people looking for work. I've never seen anything like it," said Angelos Doulgeris, who runs Greek restaurant Kos House in Berlin.
"Many of those are highly qualified people. I have been able to offer two people some casual work, but that is it - we are not getting any more customers."