Privatisation of AENA and State Lottery may be approved on Thursday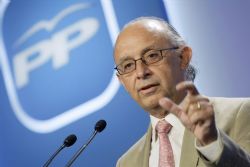 The Partido Popular Government needs to introduce further reaching measures to rectify the expected shortfall, which currently stands at 8.2% - 20% or 22,000 million euros higher than the previous PSOE administration had forcast.
Although something which the PP had earlier ruled out, this puts the privatisation of both AENA and the State Lottery back on the table, which could raise as much as 10 Billion euros.
The new Government now need to reduce the deficit to 38.5 Billion Euros - or 4.4% - by the end of the year in order to comply with EU regulations. At just their second meeting of last Friday, the Cabinet approved a first round of measures expected to save the country 8.9 Billion Euros.
However, further to introducing cuts to public spending and increases to taxes, the Cabinet must still make further savings. This makes the privatisation of Barajas and El Prat airports, which would net the Government 5 Billion euros, together with the sale of their 30% stake in the State Lottery Agency, which would net a further 5 Billion Euros.
The previous administration under Juan Luis Rodriguez Zapatero made significant moves towards the privatisation of both entities, but 'postponed' them following pressure from the then PP opposition until after the general election.
Cristóbal Montoro, the Minister of Finance has intimated that it is possible that a decision may be made at the next cabinet meeting, due to be held on Thursday of this week.