Alicante El Altet airport expects falling passenger numbers in 2012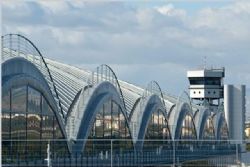 Following 628 Million Investment in Alicante-El Altet, which saw a new terminal building being opened, in March 2011 the then Minister for Public Works, Jose Blanco advised the press that the newly reformed El Altet airport would be able to double it's capacity from 10 to 20 million passengers per year.
But just 10 months later, it looks unlikely that the airport will even be able to maintain the levels previously see, let alone increased upon. This disappointing projection for 2012 can be put down to a number of issues :
1.) The withdrawal of many of Ryanair's scheduled flights from the airport due to the dispute over the forced use of airbridges has seen routes cut by 18, and many Aircraft being relocated to Palma de Mallorca airport, which will now be used as a base of operations instead of Alicante. Estimates are that this will result in the 3.5 Million passengers flown into Alicante by Ryanair falling to 2 Million - a loss of 1.5 Million passengers per year.
2.) Although testing is still underway, the new airport at Corvera, just 90 km away from Alicante it is expected that flights may commence as early as April, with the airport becoming fully operational by the summer. This is expected to impact upon the number of passengers - and airlines - wishing to continue to use El Altet airport. Although the new airport at Corvera will be managed by AENA, it will be owned by Aeromur, and as such it has been rumoured that Ryanair are interested in using the new airport as an alternative base of operations to Alicante.
3.) AENA themselves admit that the Madrid to Alicante AVE high speed rail connection, due to come into operation later in 2012, may result in the loss of as much as 55% of all current air traffic between the two destinations.
During 2010, AENA saw a total of 890,000 passengers fly between Alicante and Barajas. If this number is reduced by 55% this will result in the loss of almost 500'000 passengers per year.
This sudden decrease in passenger numbers was seen when the AVE arrived in Valencia in December 2010. Throughout 2010 in excess of one million passengers flew between Barajas and Valencia, falling to 420,000 passengers in 2011.
As with Alicante El Altet, the arrival of the AVE at Valencia was preceded by the investment of 80 million euros at the airport by Valencia, in a bid to stimulate the falling passenger numbers.