Catalan Speed Camera Controversy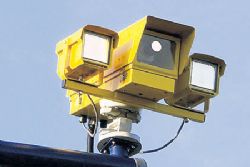 It has been revealed that a Speed camera located at the side of a Catalonian motorway has been responsible for the issue of around 130 speeding infractions per day.
The device, located in the small coastal town of Platja d'Aro in Girona, has resulted in the issue of around 6,650 euros per day since it became operational at the end of last summer.
The camera is calibrated to capture images of vehicles that are driven at just 5kmph over the speed limit, and has catches people driving at just five or seven kilometres per hour over the limit. To date the radar has produced evidence in around 21'000 cases of speeding infractions, with an average fine of 100 Euros each.
This means that if the speed camera continues at the same rate it will have netted the regional government - who are unique in being responsible for their own Ministry of Traffic - almost 500'000 Euros in revenue in 12 months alone.
Motoring associations and local resident complain that the camera is nothing more than a money-spinner for the Generalitat and has little to do with improving road safety on the region's roads.