Iberia Groundcrew Decide Against Joining Strike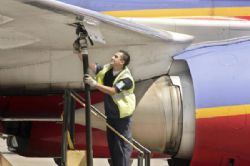 The CCOO and UGT Unions representing Iberia Groundcrew employees have found a resolution with airlinre executives and have agreed not to join the Pilots in their strike action.
The airline's Groundcrew and Cabincrew had previously considered joining Pilots, represented seperately by the SEPLA union, in their protest against working conditions, Salary cuts and potential job losses threatened by the creation of the airline's new budget carrier - Iberia Express.
Union leaders met with the Ministry of Employment yesterday afternoon where they agreed to an extension of their current employment contracts until 31st December 2014, with the possibility of extending by a further year providing certain conditions are met.
Following on from the four days of strike action before and after the Christmas and New Year period, the airline's pilots will take further action on the 25th, 27th and 30th of January.