Euro zone jobless hits highest level since birth of euro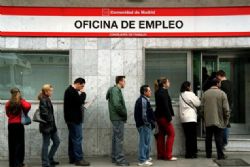 Euro zone unemployment has risen to its highest level since the euro single currency was introduced, data showed on Tuesday, a day after EU leaders promised to focus on creating millions of new jobs to try to kickstart Europe's stagnating economy.
Seasonally adjusted unemployment among the 17 countries sharing the euro rose to 10.4% in December, on a par with an upwardly revised November figure, the EU's statistics office Eurostat said.
It was the highest rate since June 1998, before the introduction of the euro in 1999, Eurostat said.
The figures showed another 20,000 people were out of work in December from the month before, taking the number of jobless to 16.5 million people across the euro zone. The rate steadily crept up through 2011 as growth stalled and recession loomed.
In the latest sign of the divergence in the currency bloc's economic fortunes, Germany's unemployment rate fell to 6.7% in January, separate figures showed, a new record low since figures for unified Germany were first published.
EU leaders at a summit in Brussels on Monday promised to drive economic growth and employment after two years of crisis and budget austerity. But while Germany is set to recover from a brief slowdown last year, southern Europe faces tough times.
Unemployment in Spain reached a new high of 22.9% of the working population in November and December, Eurostat said.
Growing joblessness is a major long-term issue for EU leaders and policymakers, and youth unemployment is particularly problematic.
In the 27-nation European Union, the number of jobless has risen steadily from a recent low of 7.1% of the working population in 2008 to 9.9% in November and December - some 23.6 million people.
Economists say it could reach 11% by mid-2012.