Central Govt may pay off Ayuntamiento debts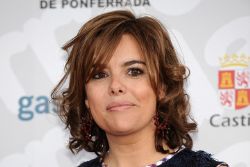 Earlier today the Deputy Prime Minister, Soraya Saenz de Santa Maria, announced the Government's proposal to pay the outstanding debts owed by the majority of Ayuntamientos across Spain.
The majority of Ayuntamientos - especially the smaller or medium sized ones in areas of little industry or tourism - are struggling to pay their debts to employees or suppliers and the regional governments are being increasingly forced to extend levels of debt to them, which only exposes the regions to further levels of debt.
Saenz de Santa Maria, who is also the Spokesperson for the Government and the Minister for the Presidency, went on to say how the first step is an order for all Ayuntamientos to report the full extent of their debts by March 15th.
The Deputy PM did not eleborate on the details of how the debts would then be resolved, but speculation is that the Central Government will either arrange for full payment of all outstanding bills, or act as a guarantor for their payment, thereby stimulating growth of the economy.