Spain 'has no problem with an Independent Scotland'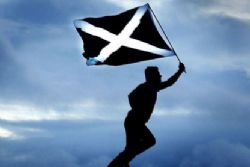 Recent speculation concerning Spain's position over the subject of an Independent Scotland looks likely to cause further problems for the UK.
Many observers assumed that Spain would automatically veto the subject of Scotland's departure from the United Kingdom and entry into the EU as a new member state due to presidence that this would set for a number of Spanish Autonomous Communities - notably Catalonia and the Basque country.
The UK's Minister for Europe, David Liddington, warned the Scottish National Party (SNP) that they should not assume that a new independent Scotland would automatically be accepted into the EU.
However, comments mad by the Spanish Foreign Minister, Jose Manuel Garcia-Margallo, after visiting London last week indicated that the issue isn't of as much concern to Spain as the UK had been led to believe.
Garcia-Margallo commented that the issue of a breakaway Scotland would have nothing to do with Spain and was "their business". He went on to say that a unified Spain was part of the Spanish Constitution and maintained his country's position on independence for the regions.
This comes despite Welsh Secretary, Peter Hain, recently commenting how Spain had issues with Basque and Catalan Independence and would move to veto Scotland from making a similar move.