EU Commission tells Spain to lower mobile fees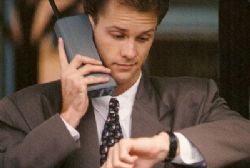 The European Commission is pushing Spain to lower its mobile termination rates by the end of 2012, sending a further signal that the Commission will not back down from regulating the sector.
"Spanish consumers should not have to pay over the odds for mobile calls, especially when domestic finances are so tight," European Commission Vice President Neelie Kroes said.
The European Commission has given the Spanish regulator CMT 3 months to find a way to lower the fees which are often no more than a few cents per minute but amount to hidden costs in consumer bills.
Mobile termination rates are charges one provider pays the other when they have to connect a call.
CMT had sought until January 2014 before bringing MTRs down, saying the move would have too negative an impact on the mobile industry in Spain.
"Industry has already had three years to adapt and a further delay of one year is unjustifiable," Kroes said.
The Dutch Commissioner, Neelie Kroes, responsible for regulating the telecoms sector recently refused to bow to increasing pressure from the industry to ease up on regulation.
Vodafone's boss Vittorio Colao complained that operators were being attacked on all fronts as they face lower MTRs, new caps on roaming costs-charges on calls and texts whilst abroad-and more regulation down the road.
"We really need to stop this autopilot regulation mentality that is still present in many parts of the world," Colao said at a mobile trade fair in Barcelona on Jan. 27.