Madrid Barajas strike to go ahead Easter Sunday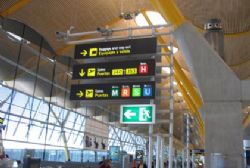 The workers council at Barajas Airport, Madrid, announced earlier today their plans to continue with strike action at the airport for the dates of the 8th and 30th of April, and the 2nd and 3rd of May.
The strike action, which will affect just Barajas, is due to the failure of AENA management at the airport to comply with the minimum staffing levels agreed with the Ministry of Development.
The statement issued by the workers council said how the conflict could easily be resolved if AENA were to agree to hire the staff in the relevant 9 vacant positions at the airport.
The decision to strike on the 8th of April coincides with a day of high traffic volume due to the end of the Easter holiday period in many regions, and will take place between 6pm to Midnight.