Support for Spain's PM falls as austerity bites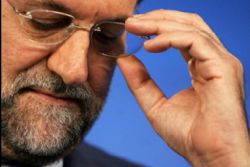 Support for Spanish Prime Minister Mariano Rajoy fell sharply in April after his government announced deep spending cuts and health and education reforms to fight the sovereign debt crisis, an opinion poll showed on Sunday.
The Metroscopia poll published monthly in left-leaning newspaper El Pais reflects for the first time a negative sentiment of the Spaniards towards the centre-right government since it won the election by a landslide in November.
Spain is thought to have entered its second recession in three years and Rajoy faces the Herculean task of reining in the finances, boosting growth by implementing tough reforms and putting back to work the about one in four Spanish workers unemployed, all while facing growing social anger.
Hundreds of thousands turned out for a general strike on March 29 to protest against a labour reform passed earlier this year which hands more power to employers by making it cheaper to fire workers and easier to restrict wage hikes.
The 11-12 April poll showed Rajoy's People's Party would win a 38.1% share of the vote in an election, down from 46.3% a month earlier and 44.6% in the November vote.
It is, however, still above the Socialist opposition, which falls to 23%, against 24.4% in March and 28.7% in the November election.
Rajoy has been under intense pressure from the EU and investors to prove Spain will be able to repay its debt without asking for outside help since revising unilaterally in February the deficit target for 2012.
The Metroscopia poll, which interviewed 1,000 people, reflects a sharp drop in support for the Spanish prime minister with 58% rejecting his policies against 51% one month ago.
A majority of Spaniards say the government is not managing well in the crisis (56%), is improvising (52%) and is not inspiring trust (70%), with 64% having a negative opinion of Rajoy's first 100 days in office, according to the poll.
All ministers also lose support in the poll. Economy Minister Luis de Guindos and Treasury Minister Cristobal Montoro are amongst the lowest rated.