Gov't 'wastes' €2'960 mln on drop-out students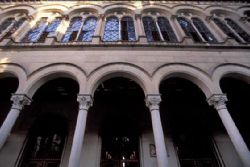 The Minister of Education, Culture and Sports, announced on Friday how the Government has commissioned a report to investigate the Spanish university system.
The appointed panel of experts will be briefed with suggesting refoms to correct the "inefficiencies" whereby the university system is currently not contributing to the growth and competitiveness of the economy.
Minister Jose Ignacio Wert revealled how Spain's spending on higher educations accounts for 1.2% of the country's GDP and covers 1.5 million students. However, he referred to this as being "unsatisfactory" when not one of the top 150 universities in the world was Spanish, and where 30% of all students enrolling in University dropped out before the end of their course. This compares with the European average of 16% and cost the country 2,960 million euros per year, which the Minister called "an investment with no return".
Wert said how there are 79 public and private universities in Spain, which between them offer 2,413 degrees, 2,578 masters and 1,680 doctorates.
The Minister also noted how just 5% of all students were foreigners, and whilst almost a quarter of all Spanish erasmus students choose to study in Italy, it points to the fact that Spain's universities are not the most attractive in Europe.