Spanish debt costs pressure euro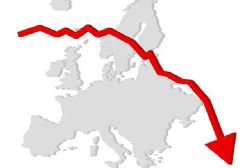 The euro lost ground slightly and German government bond prices edged away from record highs on Tuesday as investors waited to see if concerns over Spain's budget deficit and banking sector push up borrowing costs at a debt sale.
Spanish 10-year bond yields traded above the key 6% level for a second day with investors increasingly worried the country's economic worries will reignite the euro zone debt crisis.
Madrid will auction 12- and 18-month Treasury bills, a key test of investor sentiment ahead of a more challenging sale on Thursday of 2-year and 10-year bonds.
Concerns over Spain have hit risk appetite across all major markets with shares around the world weaker, oil prices slipping and gold edging below a key level of $1,650 an ounce.
The euro was down around 0.3% at $1.3096, having pulled away from a 2-month low $1.2995 in the previous session, while the dollar was up 0.2% against a basket of major currencies at 79.72.
"Concern over the situation in Spain, with the bill auction today and the problems with the economy and debt remaining a key focus, will keep the euro under pressure," Niels Christensen, currency strategist at Nordea in Copenhagen said.
The FTSE Eurofirst index of top European shares opened down 0.2% 1,030.90 but was recovering slightly after gaining on Monday on signs of U.S. economic strength.
Germany's monthly survey of economic sentiment by the ZEW Institute, out at 5 a.m. Eastern Time will be closely watched for any sign of in Europe's largest economy.
10-year German bond yields were up half a basis point at 1.64% after falling as low as 1.622% on Monday.