'Spain does not need rescue funds' : De Guindos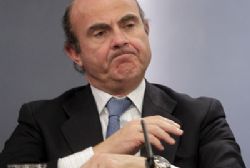 Spain does not need to tap the euro zone's rescue fund to shore up its banks, the country's economy minister, Luis de Guindos, was quoted as saying on Friday.
De Guindos met with ECB President Mario Draghi and the ECB's Executive Board earlier this week to discuss Spain's finances as pressure mounts on it in financial markets amid fears it will not be able to get its debts under control.
In an interview with German business newspaper Handelsblatt published on Friday, de Guindos reiterated the message from Spanish authorities that the country does not need a bailout.
"We will need no money from the rescue funds to refinance the banks," de Guindos said, adding that Spain had been penalised by financial markets in recent weeks as fears about a deeper-than-expected European recession had grown.