Cuidad Real Aiport warns pilots not to land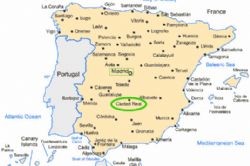 The owners of Ciudad Real's private airport have finished the markings on the ground surrouunding the airport, denoting that the facility has ceased to be operational.
The measure is necessary as means of warning to pilots - particularly of smaller aircraft - not to attempt a landing at the airport.
Just 2 weeks ago it was announced that the airport had entered banckruptcy , and that all licences had been revoked to receive any further flights until the 31st of May at the very earliest.
The owners of Ciudad Real Don Quixote airport, CR Aeropuertos SL, who employ at total of 71 staff at the facility, have not receieved any commercial flights, and just 13 private charter flights since the start of 2012.