Sterling approaches 20-month high against euro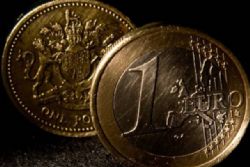 Sterling stayed close to a 20-month high against the euro on Tuesday and was seen poised for more gains as political uncertainty in the Netherlands and France prompted investors to shun the common currency.
A Dutch debt auction was also in focus.
The pound has performed strongly in recent days on the back of data showing an improvement in the UK economy and with dimming expectations that the Bank of England will opt for a further bout of asset-buying quantitative easing.
This comes against the backdrop of growing worries the economic outlook for the euro zone and about worsening debt problems in peripheral countries, especially Spain. Many analysts see sterling gaining further towards 80 pence per euro.
The euro traded at 81.59 pence, hovering just above a low of 81.49 pence hit on Monday, its weakest since August 2010.
Further falls would see it target the June 2010 low of 80.67 pence, below which would mark levels not seen since the aftermath of the collapse of Lehman Brothers in 2008.
"We continue to like sterling and see euro/sterling falling to 80 pence in the medium term," said Lauren Rosborough, currency strategist at Societe Generale.
UK public finances data due at 0830 GMT will be watched closely, though analysts said it may need a number that is much stronger or weaker than expected for the market to react.
The market's focus will be on Wednesday's first estimate to UK first quarter gross domestic product, which will show whether the economy avoided a technical recession after a contraction in the fourth quarter.
It is expected to show the economy grew a modest 0.1% after the economy shrank 0.3% in the final quarter of 2011.
The market will also watch for a Dutch sale of two- and 25-year bonds on Tuesday after the country's governing coalition collapsed after failing to agree budget cuts.
Buoyed by its gains against the euro, sterling's trade-weighted index matched Monday's high of 83.2, its highest level since August 2009, Bank of England data showed.
Against the dollar sterling edged up 0.1% to $1.6136, near a high of $1.6155 hit on Monday, its strongest in nearly six months.