Spain remains under pressure at short-term debt sale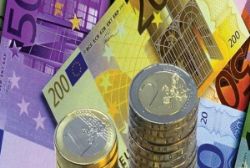 Spain's short-term borrowing costs nearly doubled compared with a month ago at auctions on Tuesday, even though it opted to sell relatively small amounts of debt given investor doubts about its shrinking economy and a new flare-up in the euro zone crisis.
The Spanish Treasury sold €725 million of 3-month bills and €1.2 billion of the 6-month bill, hitting the top end of a lower than normal target range for both of €1-2 billion.
Investors have proved fairly willing throughout the euro zone crisis to take the more limited risk of short-term lending to troubled sovereign borrowers.
Even so, yields spiked from the last time the bills were sold in March. The average yield on the 3-month bill was 0.634, up from 0.381 percent, while it was 1.580% on the 6-month bill compared with 0.836% a month ago.
"The pick-up in yields is a clear negative headline for Spain. The country is facing a double-whammy of low growth and tough austerity, and doubts that it will be able to hit already optimistic deficit targets," said Jo Tomkins, analyst at consultancy 4Cast.
Tuesday's auction target was relatively small for a T-bill primary sale because the Treasury was already well financed, an economy ministry source said on Monday.
Spain's fiscal position remains under close scrutiny after the government of Mariano Rajoy unilaterally imposed new softer deficit targets for the year. Investors doubt even the new forecasts will be met as the country slides into another recession.
Yields also spiked higher at a sale of 2 and 10-year debt last week.
Domestic banks usually buy Spain's shorter-dated paper. The bid-to-cover ratio, an indicator of investor demand, was 7.6 on the 3-month bill after 3.5 a month earlier, and 3.3 on the 6-month paper compared with 5.6 in March.
The Treasury is in the favourable position of having already sold half of its planned medium and long-term debt issuance for 2012, helped by a flood of loans to euro zone banks from the ECB, even if borrowing costs have spiked since the start of the year.
On Tuesday Spain's key 10-year bond had a yield just shy of 6%, close to a level where analysts fear a spiral of debt costs and that prompted countries such as Ireland to take a bailout.
Spain will next sell bonds on Thursday May 3, with details of the auctions to be published by the Treasury on Friday.