Castellon : The legacy of waste continues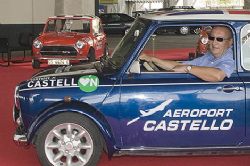 A report in today's La Vanguardia newspaper has uncovered some facts that are quite frankly staggering.
The subject of Castellon's Ghost airport - still without a scheduled date of when the first arrival may be, more than 14 months after 'opening' should need little introduction, but the full extent of its folly seemingly knows no bounds.
The Newspaper alleges that 114'000 of the 818'000 unsold properties in the whole of Spain are located within the province of Castellon.
This figure, if correct, means that some 22% of all unsold Spanish properties are located in a province which boasts just 1.27% of the population.
Why was a province with a population of 590'000 encouraged to build 114'000 extra properties that it did not need, and had little chance of selling ?
Carlos Fabra, President of Castellon between 1995 and 2011, and now President of Aerocas (the company behind Castellon airport) must surely be called upon to account for being (almost) single-handedly responsible for making Castellon the laughing stock of Europe.