Costa del Sol sees increase in tourist numbers in Q1 of 2012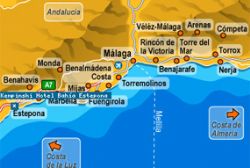 A report issued by the National Institute of Statistics (INE) has shown how the tourism industry on the Costa del Sol has performed better than expected over the first quarter of 2012.
The INE's Hotel Occupancy Survey found that the Costa recorded a total of 2.4 million room nights between January and March, representing 2.9% growth on the same period in 2011.
This was due to the volume of foreign visitors increasing to 1.6 million room nights - up 7% on 2011 - a higher number than in the Q1 of 2009, the first year when the downturn in the global economy began to take effect, with room nights for the quarter reaching 1.53 million.
However, thsi has been offset by a fall in visitors coming to the Costa del Sol from within Spain. During the first quarter of 2012 854'576 room nights were let to Spanish residents, and represents the fourth consecutive year of declining Q1 room nights.
The report also notes that March 2009 surveyed 552 hotels, whereas this year just 539 hotels were in operation, between them employing a total of 9'632 - 3.1% less than in March 2011.
Hotels within the municipality of Málaga in particular have reported that their room nights increased by 11.06% during Q1 when compared to the same period in 2011, which represents the highest rate of growth in the whole of spain. According to the INE, Malaga alone saw 181,327 room nights, of which 102,405 (56.48%) were domestic and 78,922, foreigners (43.52%).
Other notable cities showing a growth in tourist numbers in Q1 were Bilbao (10.43%), Córdoba (9.14%), Zaragoza (6.95%) and Madrid (3.35%)
However, revenues have fallen, with the average cost per room night in Andalusia last quarter being 57.2 euros - less than 4% in 2011.
Interestingly, this 7% increase in hotel occupancy in Q1 of 2012 corresponds with AENA confirming that the number of passengers flying into Malaga airport fell by 5.9% over the same period.